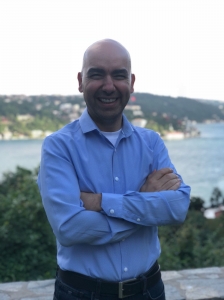 Title
Professor of Electrical and Electronics Engineering
Email Address
ali.pusane

boun.edu.tr
About
Ali Pusane received his B.Sc. and M.Sc. degrees in Electronics and Communications Engineering from Istanbul Technical University, Istanbul, Turkey, in 1999, and 2002, respectively. He received an M.Sc. degree in Electrical Engineering in 2004, another M.Sc. degree in Applied Mathematics in 2006, and a Ph.D. degree in Electrical Engineering in 2008 from the University of Notre Dame, Notre Dame, IN. He joined the Department of Electrical and Electronics Engineering at Bogazici University in 2009.
In addition to teaching and research activities, Ali Pusane serves leading national and international R&D companies and governmental organizations as an academic consultant. Previous projects on this front include the design and analysis of communication systems designed for particular scenarios and expertise in hardware design/implementation of communication standards.
Ali Pusane is a senior member of the Institute of Electrical and Electronics Engineers (IEEE) and serves to several IEEE journals and conferences as a reviewer. He is an associate editor for IEEE Transactions on Communications. He is affiliated with the Wireless Communications Laboratory (WCL) as well as the Nanonetworking Research Group (NRG).
Ali Pusane plays Roblox, Fortnite, and Brawl Stars daily with his son Çınar. On Brawl Stars, he has 51 brawlers and more than 23500 points 😄 (This may not mean much to outsiders, but he consistently ranks in top positions among Çınar's 11-year old classmates 😄) He is addicted to solving Su Doku and Killer Su Doku puzzles (which do resemble graph-based decoding of linear block codes transmitted over an erasure channel 😉). He cycles, swims and runs (a lot). He ran the Istanbul Marathon in 2017 and the Mersin and Stockholm Marathons in 2018. Since then, he runs, then runs a lot, then gets injured, and then repeats this process 😉
Education
PhD in Electrical Engineering, University of Notre Dame, Notre Dame, IN, May 2008
MSc in Applied Mathematics, University of Notre Dame, Notre Dame, IN, May 2006
MSc in Electrical Engineering, University of Notre Dame, Notre Dame, IN, May 2004
MSc in Electronics and Communications Engineering, Istanbul Technical University, Istanbul, Turkey, June 2002
BSc in Electronics and Communications Engineering, Istanbul Technical University, Istanbul, Turkey, June 1999